Every Saturday morning your HideAway Haven - Luxury Accommodation hostess is off to the Albany Farmers Market where farmers sell their produce. All the food we serve for your gourmet breakfast is homemade with produce - where ever possible - from our local farmers.
We use coffee from Fair Trade supporters The Naked Bean and animal welfare and agricultural sustainability are of paramount concern to us.
"Best breakfasts we have ever had" "breakfast is incredibly fresh and delicious" "Breakfasts are on time, homemade, organic and delectable"
Trip Advisor Reviews
Daily breakfast menu offers a selection of:
Breakfast Menu choices vary daily
Seasonal fruits
Breakfast Parfaits (layers of fruit and yoghurt, topped with toasted muesli)
Fresh Fruit
Breakfast Smoothies
Home-made breads - Sour Dough Rye, German Grain, Multi Grain, Chia Seed, White
Home-made toasted muesli
Home-made jam and marmalade
Home made French toast brioche served with fresh peaches poached in caramel sauce
Vegetarian Quiche with spinach, asparagus, feta cheese and sun dried tomatoes
Belgium Waffles with 100% Maple Syrup
Always available daily - Poached or Scrambled Eggs, with sides and tomato relish
Our breakfast menu caters for the varied requests of our guests, including vegetarian, gluten-free, lactose-free and RAW options.
Want to stay in a top class luxury accommodation where they serve gourmet breakfasts every morning? But think you can't because you have special dietary requirements? Want to sit on a balcony and have your breakfast while the birds sing and play below? But think it's too hard? Then book in at HideAway Haven where no dietary requirement is too difficult to deal with. Some special requirement dishes that have been served are:
Pear Crumble, (oats, maple syrup and crushed hazelnuts) soy yoghurt and cinnamon
Cinnamon, Pear and Date Porridge,
Orange Parfait with a nut and oat crumble
Scrambled Eggs in Corn Tortilla Flowers
Coconut Quinoa Porridge served with bananas and toasted coconut flakes
Breakfast Chia pudding topped with local fresh strawberries, toasted almond flakes and maple syrup
Home-Made gluten free bread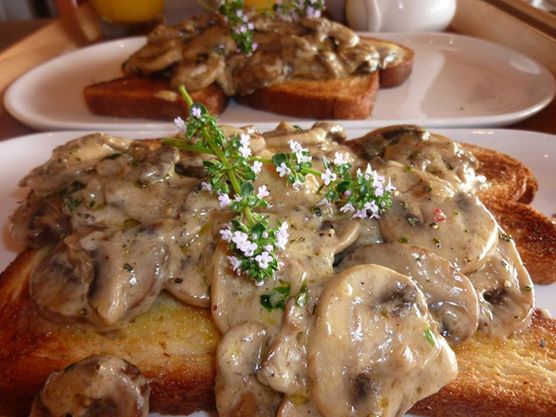 We believe one of our USP is our breakfast menu and how your breakfast is served. Some guests like to enjoy their breakfast barefooted and in their PJ's. Others love the chatter and busyness of a dining room. We offer both. At HideAway Haven guests don't need to stand at the buffet, trying to identify the least unappealing items and more importantly, the most nutritious food. No need to drink stale coffee or cold croissants. Our breakfast menu caters for the varied requests of our guests, including vegetarian, gluten-free, lactose-free and RAW options. Our gourmet breakfast is delivered on a tray and guests can choose to eat in their room, on their private deck with the birds playing in the garden beneath, on the common deck or in the dining room depending on their mood. We highlight best practice from around our local region. Animal welfare, agricultural sustainability and responsible business practice are of paramount importance to us. The Naked Bean, one of Albany's premier Fair Trade supporters, supplies coffee for our guests at HideAway Haven. We use local free-range eggs exclusively.